While all eyes will have been on Argentina's possible exit against Nigeria, Croatia took on Iceland in a game where Iceland could conceivably still qualify from the group with a win. Ultimately though it was Croatia's squad players who eased themselves into the last 16 with a narrow 2-1 victory and thus sent Iceland heading for the departure lounge in Rostov-on-Don.
Croatia and Iceland are familiar foes having previously faced each other in qualifying for Russia. The teams split the games with Iceland claiming top spot with a slim two-point margin while Croatia finished second. They also squared off in qualifying for the 2006 and 2014 FIFA World Cups. This familiarity caused Icelandic coach Heimir Hallgrimsson, to quip the teams were "like a married couple".
Croatia, having already secured qualification for the knockout phase rested nine players and although groups rivals, Nigeria and Argentina, can claim this gave Iceland an advantage it certainly didn't play out that way as professional and committed performances from Mateo Kovačić, Milan Badelj and Andrej Kramarić saw them remain unbeaten throughout their group phase games.
The game itself was a lesson in squad management from Zlatko Dalić, and considering the problems Croatia have faced with the unceremonious departure of Nikola Kalinić  and the off the field legal issues involving Luka Modrić and Dejan Lovren, this is also a victory for squad morale. I don't want to describe the players making their first start of the tournament as 'back up players', but their appearances will give the squad a more inclusive feel which will only help them if they progress past the next round.
The majority of Croatia's big-hitters were rested, however Modrić remained in the starting line-up, as they started in a defensive 4-3-2-1 with Kovačić and Modrić playing a more holding midfield role than they would usually incorporate. Real Madrid player, Kovačić, in particular turned in a magnificent performance, linking the midfield and attack and displaying the qualities which prompted high-praise from Inter legend, Javier Zanetti. On several occasions, in a game which Croatia were happy to play it safe and control possession, he held up play and completed an impressive 99% of his passes. In the end Croatia created few chances. Badelj hit the crossbar early in the second half before he drove home the opening goal in stylish fashion after 53 minutes. The injury time winner, came courtesy of a fine Ivan Perišić strike, across the Icelandic goalkeeper and into the far corner.
Iceland can rightly bemoan their lack of attacking quality; they certainly created a few chances but ultimately didn't finish them. Alfred Finnbogason shot just past the post from the edge of the area after a defensive mix up and they caused mayhem in the Croatian defence with a long throw in the second half; the defence hardly knew where the ball was as stand in goalkeeper, Lovre Kalinić, fluffed his attempted punch and they were very fortunate to escape that time. Iceland were finally rewarded for their efforts when Gylfi Sigurdsson converted a 76th minute penalty.
Had the group winners, despite the changes to the starting line-up, not been their final opponents it may well have been a different outcome for the likeable Iceland team, but they can be pleased with their performances in Russia, with the draw against Argentina being their most memorable moment.
Croatia's defensive mix ups can be attributed to a lack of understanding between their squad players and a general easy-going approach to the game, but Dalić will want to make sure the old defensive problems don't re-appear in the Round of 16 game. Nevertheless, Croatia will be very happy with their group stage efforts having won all three games, this including the 3-0 demolition of Argentina, and conceded just one goal from Iceland's penalty on Tuesday evening.
Croatia will face Group C runners-up, Denmark, on Sunday in Nizhny Novgorod, and will be back at full strength and the momentum generated by their group performances will be vital, winning breeds confidence, and Croatia will definitely fancy their chances against an efficient, yet average, Denmark side.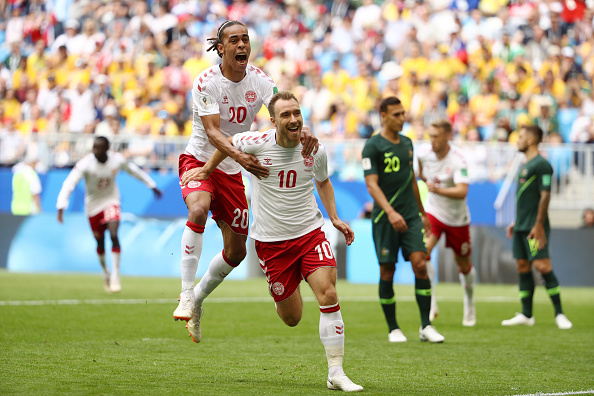 Again, Modrić is the key for Croatia, much like Christian Eriksen is for Denmark. They are very similar players and the worry for Croatia will be Eriksen's ability to arrive late in the area or to use his devastating long-range shot. They are both integral to their country's chances, but the support they get from their team mates is equally as vital and Croatia win this battle fairly comfortably with the likes of Rakitić, Perišić and Mario Mandžukić for company in the Croatia team.
Like Croatia, Denmark were impressive defensively, only conceding an Australian penalty in the group stage. However, they defend very deep when the opposition have the ball and this would give Modrić room to work his magic. For the Danes their lack of goals must be their real concern, having scored just twice in the three group games and given Croatia's strong defensive displays thus far it is unlikely Denmark will have enough attacking firepower to beat them. It seems their main hope will be an inspired performance from Eriksen, a rare Croatian defensive slip up or taking the game to penalties.
Match prediction: Croatia, 2 Denmark, 0