Robert Prosinečki a dynamic, intelligent and technically gifted midfielder. A footballing journeyman who made over 400 league appearances across five countries. He won a European Cup, World Youth Championship, played 49 times for Croatia, 15 times for Yugoslavia and played at two FIFA World Cups. Partial to a drink and a cigarette during his playing days, he played for both Real Madrid and Barcelona and had a one season stint at Portsmouth later in his career.
Prosinečki is probably best remembered for his performances at the UEFA Euro 1996 and the World Cup 1998 in France, and in particular the goal versus Jamaica in their opening game. The goal is one of genius; an intelligent, audacious chip over the goalkeeper from an impossible angle. He helped lead his side to the Semi Finals on their World Cup debut and the team won many fans across the world. He also played and scored for Yugoslavia at Italia 90, thus making him the only player to have scored for two nations at a World Cup Finals.
German-born Prosinečki started his career at Dinamo Zagreb but only made a handful of appearances as a teenager. His father pressured for a professional contract with Dinamo but their well-respected and fearsome manager, Miroslav Blažević, famously shunned the request and was reported to have said he would "eat his coaching diploma" if Prosinečki ever became a real footballer.
Something had to give and eventually his father orchestrated a move away from Zagreb. He approached then European powerhouse, Red Star Belgrade, met with Director of Football, Dragan Džajić, and arranged a trial for 18-year-old, Prosinečki. They were extremely impressed with what they saw and started contract negotiations immediately. This obviously ruffled some feathers back home in Zagreb and the way in which Prosinečki left was a grudge Blažević would hold against him (he left Prosinečki on the bench for Croatia's World Cup Semi Final against France in 1998). Blažević later blamed Prosinečki's father for his unceremonious exit from Dinamo, stating he refused a four-year contract on Robert's behalf and already had contact with Red Star before the negotiations with Dinamo began.
Nevertheless, Prosinečki immediately became a first team player at Red Star and won the Yugoslav First League in his debut season, no doubt to the annoyance of Miroslav Blažević. His skill, vision and shooting ability would help drive Red Star to the pinnacle of European football a few years later. Domestically, he won three league titles with Red Star and made over 100 appearances in four years.
Prosinečki was part of the victorious Yugoslavia side at the FIFA World Youth Championships 1987 in Chile. They won five of six games and defeated West Germany on penalties in the Final. Prosinečki's composure and energy won him the tournament's Golden Ball. It is little surprise Yugoslavia won the tournament as one only has to look at their squad to see why; Davor Šuker, Igor Štimac, Robert Jarni, Zvonimir Boban and Predrag Mijatović, were just a few of the players who would become household names across Europe over the next decade.
He was very much in the right place at the right time as the late 1980s and early 1990s were a golden period for Yugoslav football, much like Romanian football around the same time, they too produced an unlikely European Cup winner. Their European expedition began with a 5-2 aggregate win over Grasshoppers of Switzerland, Prosinečki scored two penalties in a 4-1 Second Leg victory.
Prosinečki was on the score sheet again as Red Star defeated Rangers 4-1 on aggregate in the Second Round. He scored his fourth of the competition in a 6-0 aggregate win over Dynamo Dresden in the Quarter Final. It's worth noting Red Star were leading 3-0 from the First Leg and 2-1 in the Second Leg in Germany, when the game was abandoned due to rioting by Dresden fans; Red Star were awarded a 3-0 win.
The Semi Final was a tense affair with Red Star shading a 4-3 aggregate win over Bayern Munich, a last minute own goal from Bayern's Klaus Augenthaler gave Red Star their place in the Final.
Red Star defeated Marseille in the Final in Bari, Italy. A penalty shootout was required to separate the teams as they played out 120 goalless minutes. Red Star inscribed their name into European folklore and with that win they remain the last eastern European side to win the European Cup/UEFA Champions League. The squad from the 1990/91 season was a who's who of young Yugoslavian players who went on to become international stars; alongside Prosinečki were Vladimir Jugović  who played for Sampdoria, Inter Milan, Lazio and Atletico Madrid, Siniša Mihajlović (Inter, Lazio, Roma and Sampdoria), Darko Pančev (Inter, VfB Leipzig and Fortuna Dusseldorf) and also Dejan Savićević (Milan).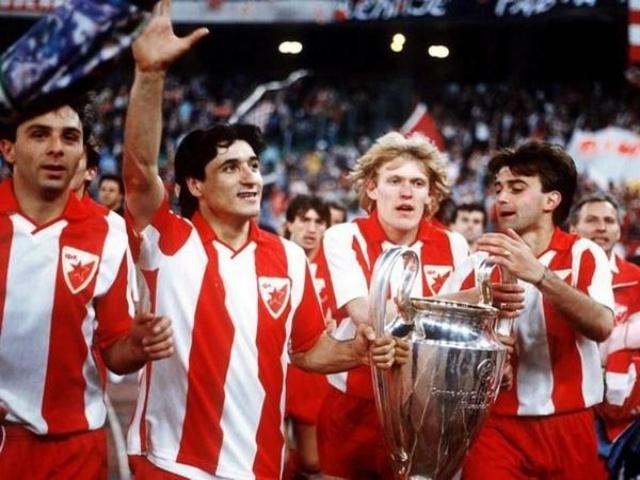 Predictably, Prosinečki's own move abroad wasn't too far away and he joined Real Madrid in 1991, a step up in quality and one which should have suited his playing style, however he didn't settle as he would've hoped and endured an injury-plagued three seasons at the Bernabeu, making just 55 league appearances.
Prosinečki was loaned out to Real Oviedo in 1994 and he had arguably his best spell outside of his homeland. His improved fitness, dynamism and flair really came to the fore and in just 30 league appearances his performances caught the eye of both Barcelona and Atletico Madrid. Prosinečki became a free agent at the end of the season and chose to join Barca, signing a three-year contract in July 1995. However once again injuries damned his time at a new club and he was sold by Bobby Robson to Sevilla in 1996. He unfortunately endured a miserable time in southern Spain and the club were relegated from La Liga at the end of the 1996/97 season. It was time to head home.
Having made 124 starts in six years in Spain he returned to Dinamo Zagreb, now renamed Croatia Zagreb, in 1997. Prosinečki slotted right into the team and guided them to two league titles and thus two Champions League appearances. His influential role as captain in Zagreb's midfield was the catalyst for their success and he helped to guide and advise some of Croatia's future stars; just as he was involved in the last great golden generation ten years previously. The Croatia Zagreb team of that era sent six players to the 1998 World Cup in France, an impressive number considering the quality of their team at the tournament.
Prosinečki's injury-hit career drew to a close with stints in Belgium, England and Slovenia, before returning home again in 2005. He is much relished from his time at Portsmouth as his performances helped save the club from relegation during his season there and this lead to him being elected into their all-time best XI in 2008.
Prosinečki's lifestyle vices certainly didn't affect his performances, although he later acknowledged their effects on his body during his retirement from playing. His energy, determination and work rate remained second to none throughout his career. It is a shame however that his career with European giants Real Madrid and Barcelona were so badly affected by injury, it is obvious a player of his immense talent deserved to be able show what he was capable of for many years at one of Europe's colossal clubs. Revered for his performances on the international stage for Yugoslavia and later Croatia, Prosinečki remains one of the country's most successful players. Croatia teams since his retirement have had an abundance of midfield talent and there has been more than a little 'Prosinečki' about them; masses of desire and technical ability all mixed together with a little egotism.