The Croatian national team's rise from the shadow of the Yugoslav wars of the 1990s and independence in 1991 to become one of the world's top teams before the end of the decade is one of defiance, hope and solidarity. Lead by the lethal instinct of Davor Šuker, the rebellious swagger of Milan number ten, Zvonimir Boban, the industrious work ethic of midfield general, Robert Prosinečki and the defensive wall of Slaven Bilić and Igor Tudor they stunned the world in France 1998 and were minutes away from the Final.
They made their tournament debut in England in 1996 and straight away they gained the unshakeable dark horse tag. A team peppered with fine technical ability, they beat Denmark 3-0, with Šuker scoring a delightful chip over Peter Schmeichel for their third cherry-on-top-of-the-cake goal. They finished second in their group after they recorded another win over Turkey. Despite being knocked out by eventual winners Germany in the Quarter Final, it had been a very respectable start to their international adventures and they would have an opportunity to take revenge on Germany just two years later on the biggest stage of all.
Qualifying for the 1998 World Cup pitted them against rivals Bosnia and Herzegovina; two politically charged games saw Croatia triumph, 4-1 in Bologna and 3-2 at home.
Denmark gained some revenge for the Euro 96 defeat as the Laudrup brothers both scored in a 3-1 win in Copenhagen. With just two games remaining the win helped he Danes top the group, two points ahead of Croatia, they in turn finished a point ahead of Greece in third.
Croatia were left to slug it out in the Play Offs as one of the best runners up. The first leg of their tie against Ukraine saw them take an invaluable 2-0 lead, courtesy of Bilić and Valencia's, Goran Vlaović. An early Andriy Shevchenko goal in the return leg made the remaining 80 minutes very anxious indeed, but they held their nerve in front of 77,000 to record a 1-1 draw and thus a 3-1 aggregate win. Croatia were going to their first World Cup; a huge achievement given the infancy of the country itself, but not entirely unexpected given the level of talent in the squad. The question was could they do themselves justice and show the world what they were capable of?
The draw saw them up against one of the tournament favourites; Argentina, and fellow tournament debutantes, Japan and Jamaica. Maybe the scheduling was a little kind to Croatia as they would play Argentina in the final game and the feeling was they would both have already qualified and thus the teams could play out a competitive, but predictable, draw. Croatia would be without powerful target man, Alen Bokšić, through injury, but they were fancied to at least progress to the Knockout Rounds.
Their first game against Jamaica in Lens saw Boban become the first Croatian to captain his country at a World Cup and they were given a fine start as Mario Stanić fired them in to the lead just before the half hour. But the much loved Jamaicans equalised through Wimbledon player, Robbie Earle; a fine header from a left wing cross just minutes after the restart. Not to be denied, Croatia took control in the second half and cruised to a maiden victory with two goals in a 15 minute spell from Prosinečki and Šuker. Prosinečki's goal was sheer class, bordering on arrogance, he shaped to cross a free kick on the right hand side of the area, he dummied instead; completely fooling the wall and chipped a beautiful shot over the stranded goalkeeper and into the far corner. A single goal from Gabriel Batistuta was enough for Argentina to see off Japan earlier that day in Toulouse.
The second round of games saw Argentina destroy Jamaica, 5-0, with Batistuta netting a stunning 10 minute, second half hatrick. Jamaica's cause certainly wasn't helped by the sending off of Darryl Powell in first half injury time. Argentina were through and Croatia joined them as a late Šuker goal was enough to give them a slender 1-0 win over Japan. So as predicted both Croatia and Argentina had qualified with a game to spare and their game in Bordeaux saw Argentina claim top spot in the group with a 1-0 win, their first place finish set up a Knockout Round game against England in Saint-Étienne (we all know what happened there), while Romania awaited Croatia on 30 June.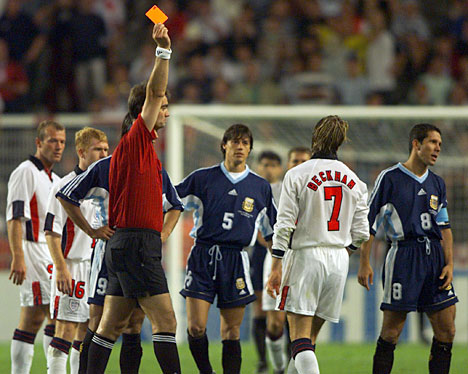 The winners of the Romania and Croatia tie would face Germany in the Quarter Final after they were victorious the previous day against Mexico. Croatia eased past a similarly talented Romania side, 1-0. Davor Šuker despatched a 45th minute penalty at the second attempt as the referee had ordered it to be retaken. Croatia were well worth their win as they dominated the game and the score line flattered Gheorghe Hagi's Romainia somewhat.
The Croatian adventure continued with a Quarter Final game on 4 July against a Germany side who had not been at their best during the tournament. They had requiring a last minute winner against Mexico in the Knockout Round and had to overturn a two-goal deficit in their group game against Yugoslavia. However, their squad had plenty of match winners, they had won Euro 96 two years previously and not to mention the fact they were playing a team which hadn't even existed the last time they won the World Cup.
Croatia took no notice of their respective records and during a very physical game Germany were made to look prehistoric by the fresh, exciting Croatians as they inflicted Germany's heaviest tournament defeat for 40 years. The Germans' nadir would soon arrive after their catastrophic Euro 2000 campaign and it would lead to their eventual revolution and redemption.
Croatia were clinical and confident though, attacking full back, Robert Jarni opened the scoring just after half time with an arrow of a shot into the bottom corner. The tide turned even further towards Croatia when Christian Wörns was harshly sent off just before half time. Vlaović doubled the lead on 80 minutes with a goal in technique and style which was similar to Jarni's opener. The third came about from a wonderful display of determination, balance and skill from Šuker as he wrapped up the rout a few minutes from time. Revenge for the Euro 96 defeat was exacted in style.
Although most would consider the win an upset it actually wasn't so far away from an expected win. Manager, Miroslav Blažević, a huge supporter of Croatia's independence, had moulded an extremely well drilled team, with no shortage of flair and technical ability. Their eventual elimination was against the hosts in the Semi Final, four days later in Paris. It looked like the impossible may happen when Šuker gave them the lead just after half time as burst through the French defence to fire home past Fabien Barthez. However barely a minute later the hosts equalised through Lillian Thuram and he doubled his tally with 20 minutes remaining to put France through to the Final. Ironically, those two goals were Thuram's only goals for the national team in 142 appearances.
Croatia dusted themselves down and faced off against Holland in the third place play off. Golden Boot winner and star striker, Šuker, scored the winner in a 2-1 victory as they finished the tournament in third place.
Croatia had been within a whisker of the world's biggest cup final, a simply magnificent achievement for a country only recently recovering from a civil war. Long considered to be Yugoslavian, the players had their own identity, their own country to play for and this manifested itself into their exhilarating and joyful performances on the pitch. It's been 20 years since their World Cup debut and they have yet to match that performance at France 98, with the likes of Modrić, Mandžukić, Perišić and Rakitić in the 2018 squad they have the quality to succeed again.