Croatia have gone against the usual warm up process for the FIFA World Cup, namely, playing a bunch of fourth-rate patsies, who are usually used as cannon-fodder to boost morale and bag a few goals. They lined up against fellow qualifiers, Peru, Mexico and Brazil, while Senegal provided the final opponents before the tournament begins. It's obvious to see they're preparing for their group games with Argentina and Nigeria. The fact they played Iceland, their other group opponents, in qualifying, means they'll be well prepared for their group encounter in Russia.
They kicked off their preparations in March with two friendlies in the United States, against Peru and Mexico. Their third friendly was a lot closer to home, at Anfield, as they faced off against pre-tournament favourites, Brazil. Their final friendly, against Senegal, will be a send-off in front of their fans in Osijek. No doubt playing the three games at a neutral venue will help to replicate the atmosphere of a World Cup game and will certainly help their preparations.
Peru / Miami, FL, USA / 24 March 2018
Their first friendly was at the Hard Rock Stadium, Miami. They faced a Peru side who finished fifth in the CONMEBOL group but, like Croatia, qualified through the Play Offs. Croatia fielded a familiar line up in a familiar 4-2-3-1 formation, with their big hitters, Mario Mandžukić, Nikola Kalinić, Ivan Perišić, Ivan Rakitić and Luka Modrić all starting. For this game we saw Ivan Rakitić and Luka Modrić swap roles, with Rakitić playing as defensive midfielder and Modrić the link between the midfield and attack. We have seen these two interchange during qualifying as they possess a similar skill set. Verteran, Verdran Ćorluka, made a welcome return to the centre of defence.
The match was dominated by Croatia, they had almost twice as many shots and 61% possession, however, they went behind early to a goal from Watford player, André Carrillo; a defensive mix-up, a failed clearance and a pass intercepted by Peru on the edge of the Croatia area, all contributed to the circus act which was the opening goal. The shot, a powerful low drive, was deflected past Danijel Subašić. Worse was to follow for the Vatreni as Edison Flores scored a relatively simple tap in just after half time. The initial through ball had beaten the Croatian defence, and Christian Cueva, slightly to the left of goal, fired in a low shot under pressure, Subašić parried and Flores was left with an open goal. 2-0.
There wasn't the rash of substitutions we usually see in friendlies as Croatia only made four, the most notable of which saw Marko Pjaca play a 20-minute cameo to continue his quest to regain his form after a post-Christmas loan from Juventus to Schalke 04. He was singled out for glory at international level before a horrific ACL injury in March 2017, but if he regains his fitness and form he could still prove to be a valuable asset for Croatia in Russia and the years to come.
Peru had Yoshimar Yotun sent off for two cautions with just 12 minutes left, the official reason will be unsportsmanlike conduct as he prevented Modrić taking a quick free kick in midfield. It's a shame a player should be sent off for a trivial caution in a friendly but the referee appeared to be committed to applying the rules no matter the occasion or the situation. The game ended in defeat for Croatia but they can be heartened at the performance and they move a step closer to full match sharpness ahead of Russia.
Mexico / Dallas, TX, USA / 28 March 2018
Next up four days later, a journey across the country, all of 1348 miles, to AT&T Stadium in Dallas, to face Mexico; a much more rigorous test for Croatia against the number 15 ranked nation. Zlatko Dalić fielded a much changed side as only Rakitić remained from the team who started the Peru game. Pjaca started, as did Mateo Kovačić and TSV Hoffenheim man, Andrej Kramarić .
The game was fairly even and entertaining in regards to chances, although clear cut chances were at a premium. As mentioned in my tactical article, Croatia's defence again struggled a little on crosses and on more than one occasion they were left to hurriedly clear the knockdown or half chance; something to work on before the tournament.
Given the lack of real goal scoring opportunities it isn't a surprise it finished 1-0. The single goal was an Ivan Rakitić penalty just after the hour. Having watched the incident leading to the penalty a few times it is still debatable whether Tin Jedvaj, the player fouled, was actually on the pitch! He cut inside his marker close to the touchline and penalty area and was hacked at, it was a foul, no question, but he appeared to leave the pitch during the act of turning the Mexican player. Regardless, the win will have given Croatia something to smile about on their journey home.
Brazil / Liverpool, England / 3 June 2018
Croatia's penultimate friendly saw them line up against Brazil in a real test of their credentials ahead of the tournament in Russia. A familiar Croatian line up took to the field at Anfield, with the exception of Mandžukić, who dropped to the bench, Andrej Kramarić took his place. Regular starters, Strinić and Kalinić also started on the bench. It was apparent from the formation that Rakitić and Modrić had swapped roles in order to give Modrić more freedom in attack.
Brazil too fielded a strong line up with Fernandinho, Marcelo, Gabriel Jesus and Phillipe Coutinho starting the game. The game itself was, pardon the atrocious pun, a game of two halves. Croatia started very physically and gave Brazil little time on the ball; watch for this tactic when they face Argentina in a few weeks time. They created few chances though, but troubled Brazil with the corners they forced. Again it was encouraging to see Croatia using the flanks as a point of attack and they created a little panic in the Brazilian defence more than once. The first half was probably most notable for an obvious, but not malicious, studs up tackle by Kramarić, which was received with a comedy late hop-and-dive about 5 seconds after contact from Thiago Silva.
The second half saw the introduction of Neymar and an improved Brazil performance. They played Croatia at their own game and pressured them into a number of misplaced passes. Neymar scored the opener with 20 minutes remaining, a rasping shot into the roof of Subašić's goal following a dribble past two Croatian defenders. While the dribble and finish were impressive, it can be argued the Croatian defence showed too much respect to Neymar and they had ample opportunities to make a challenge. They cannot afford Lionel Messi or Paulo Dybala the same respect in Russia.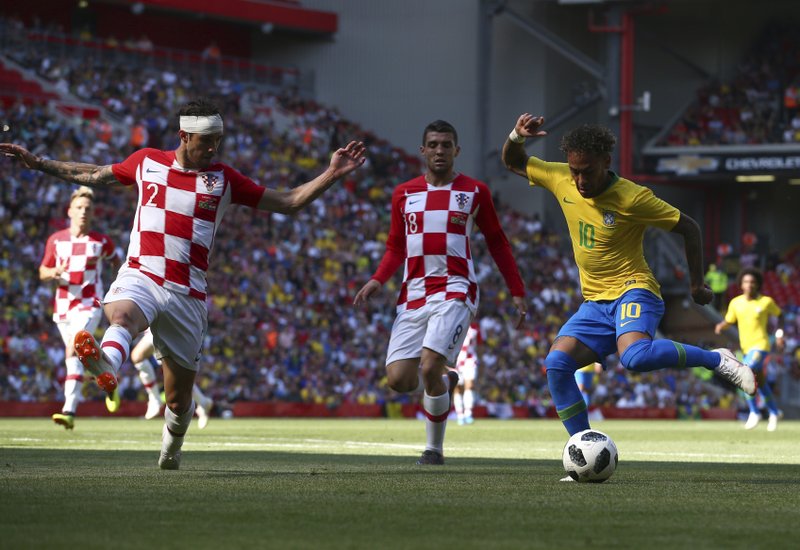 The flurry of second half substitutions, as usual, affected the flow of the game and Croatia offered little else in the early-summer sunshine. Brazil's second goal in injury time was courtesy of a high ball over the top of the defence which wasn't at all well dealt with by the defence and local favourite, Roberto Firmino, lofted a nice finish over the stranded goalkeeper. The curse of the high ball strikes again as more than one Croatian defender was stood watching the ball over the top.
In the end the scoreline wasn't as important as the performance and Croatia can be encouraged by their first half pressing and physicality; it may be just enough to unsettle Argentina in the Group Stage game on 21 June.
Senegal / Osijek, Croatia / 8 June 2018
Croatia rounded off their pre-World Cup friendlies by hosting Senegal in Osijek, the hosts would no doubt be hoping playing at the home of former national hero, Davor Šuker, would inject some of his goal scoring prowess in to them in the coming weeks.
The Croatian line-up was again a fairly strong one, Mandžukić was back in the starting XI, Modrić and Rakitić reprised their roles from the Brazil encounter, but Vida started in an unfamiliar right back role.
In a fairly even first half neither team looked particularly threatening, although it was notable Croatia were was looking to attack from the wings with plenty of crosses now Mandžukić was back as the lone striker.
Once again though, Croatia's defence looked suspect on high balls and crosses as the central defensive awareness was severely lacking at times. This was highlighted in the worst possible way just minutes into the second half as a high ball split the two defenders and Vida was caught ball watching as Ismaila Sarr latched on to the ball and easily stroked the ball past Subašić.
Croatia hit back just after the hour as Perišić's deflected free kick found its way in, it was a deserved equaliser as they had relentlessly attacked since going a goal down, showing some great mental qualities in the process. Andrej Kramarić, a half time substitution for Milan Badelj, hit the bar just before the equaliser but eventually hit Croatia's second with just over ten minutes left; a powerful low finish at the second attempt after he cut inside the Senegal full back. Kramarić is certainly one to watch in Russia and has impressed in the Croatian team during their recent friendlies.
It stayed 2-1, and the smiles and relaxed atmosphere at the final whistle showed a team ready for the challenges ahead in Russia. Croatia dominated the possession and their reaction to the Senegal opener was reflected in this. Their build up play and organisation, when compared with the earlier friendlies, was vastly improved.
Croatia's defence remains the biggest problem but winning breeds confidence and if they can get off to a good start against Nigeria on Saturday they may just be able to make some noise in Russia this year.