Luka Modrić, Zvonimir Boban, Robert Prosinečki; all luminaries of the world game during their careers and they have one thing in common; they all progressed through the Dinamo Zagreb youth academy. The Građanski Nogometni Klub Dinamo Zagreb II was founded in 1967; the academy has won 26 Croatian under-18 titles, 11 Croatian under-17 championships and five Yugoslav under-18 championships. For the past 50 years Dinamo have produced some of the world's most exceptional footballers and their ability to produce the next generation of Croatian national players shows no signs of subsiding.
Since the publicity around the celebrated early 1990s Manchester United youth players dubbed, 'Fergie's Fledglings' there has been a greater interest in finding the world's next superstar at a young age. A decade later the graduates of Barcelona's La Masia academy became the foundation of their legendary 2000s team and their success only intensified the need to produce successful homegrown players.
While it is a merely a wish for the majority of teams, one cannot deny there is something inherently romantic about someone who has been a one-club player since his youth. Someone who feels the pride when he pulls on the shirt, who has shared the highs and lows with the fans. It's almost a parent/child relationship and that loyalty is priceless to most fans. It is also worth a great deal to the clubs themselves as bringing through youth players costs much less than buying someone from another club (although that may just be the cynic in me!? I'm sure they quite like the romantic 'one of our own' notion too!).
We all know most big clubs spend tremendous amounts on their youth academies and have scouts all over the world working tirelessly in an attempt to scoop up the most talented youth players. A big part of this desperation to find the next big thing is down to the greater exposure afforded to the modern game. Fans now don't have to rely on newspaper reports of reserve team games to find out about their youth teams; they can easily use Google to find out everything they need to know in just a few clicks.
The term 'wonderkid' is widely used now also, it originates from Football Manager, and refers to a youth player, who with the right standard of training and first team action can become world-class. With games like Football Manager fans can be a real life Eric Harrison as they nurture the next Modrić or Boban from the youth team into the big time. Although it adds to the realism of the game it dangerously feeds the hunger for their club to find the next Messi.
The ease of access to modern footballers, coupled with the greater expectations from fans to 'win now', means clubs are always under pressure to produce quality youth players. Clubs like Manchester United, Paris Saint-Germain and Barcelona are almost expected to spend millions on their academies and scouting, but just how does a team of the stature of Dinamo Zagreb produce such a conveyor of talent season after season?
Dinamo have long since been settled in their role among the European football's pecking order; namely, a club with a wide-ranging scouting network and successful youth academy, who rear their youth players through the ranks, into the first team to then sell on at a large profit.
The Dinamo hierarchy deep down know the team will never compete at the top UEFA Champions League level, instead they purely set up to dominate domestically and gain entry into the Champions League, thus guaranteeing them a healthy revenue stream which by Croatian financial standards will keep their club and academy in business for many a year. This is partly the reason why their academy is able to flourish so well year after year despite being based in what some would consider a relatively small country, both in financial and population terms.
Presently Dinamo has ten age categories from under-8s to under-19s and they also hold summer training camps in Canada, United States, Australia, Slovenia, Germany and Poland.
A recent study showed they were ranked as the fourth best youth academy in the world, based on the quality of their youth teams and as of October 2015 Dinamo had the fourth most players playing in European leagues who had originally been part of their academy.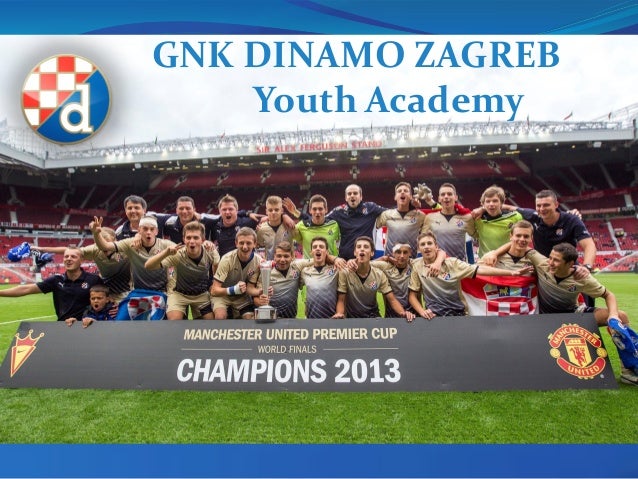 However, perhaps the most notable commitment of their academy coaches is they promise to play at least two of the academy graduates in the Dinamo first team, thus guaranteeing their best youth players first team action. The others who have a chance of making it as a senior professional, but aren't quite ready for regular games at a high level, are sent on loan to Dinamo's local feeder club, NK Lokomotiva Zagreb.
Some of the world's star players have been a product of their academy, the aforementioned Modrić and Boban are the more obvious ones, but players like Andrej Kramarić, Niko Kranjčar and Champions League winner, Igor Bišćan are all Dinamo graduates.  Below we'll take a look at some of their finest academy products in more detail.
Zvonimir Boban
Yugoslavia team mate of Robert Prosinečki when they won the 1987 FIFA World Youth Championships in Chile. He played for Dinamo for eight years in total and captained the club at just 19 years old. He made his name as an agile, attacking midfielder of great flair and determination. Boban was one of the main protagonists during a riot at a game between Dinamo and Red Star Belgrade in 1990, his resulting suspension forced him to miss the 1990 World Cup, however he was back to represent a newly-independent Croatia at UEFA Euro 1996 and the World Cup in France in 1998. Boban played 142 times for AC Milan, between 1991 and 2001, he won four Serie A titles and the Champions League in 1994.
Robert Prosinečki
As mentioned above, Prosinečki was part of the victorious Yugoslav squad in 1987. An intelligent and technically gifted midfielder he was a product of the Dinamo academy, he played for them between 1980 and 1987 then moved to Red Star Belgrade after a contract dispute with Dinamo. He won the European Cup with Red Star in 1991 and, like Boban, represented Croatia at the tournaments in England and France. Prosinečki went on to play for both Real Madrid and Barcelona in an injury-hit career.
Vedran Ćorluka
Versatile defender, Ćorluka, played for Dinamo on 61 occasions between 2003 and 2007 after graduating from the academy and helped Dinamo to three successive league titles. He moved to Manchester City in 2007, then to Tottenham Hotspur a year later, where he played alongside fellow Dinamo youth product, Luka Modrić. He went on to make over 80 appearances for Spurs . Ćorluka will be representing Croatia at the 2018 World Cup; he has 98 caps and will hope to get past the century mark during the tournament.
Luka Modrić
Probably the most famous Dinamo youth graduate of recent times, Modrić joined the academy at 17 and played 94 times for Dinamo's first team before joining Tottenham Hotspur in 2008. A wonderfully gifted passer of the ball with a creative intelligence which few can match, his talents paved the way for a £30m move to Real Madrid in 2012 and has been heavily involved in their three consecutive Champions League victories. Internationally, Modrić has played at five tournaments for Croatia, amassing over 100 caps in the years since his 2006 debut.
Dario Šimić
A tough and powerful defender, he represented his country exactly 100 times. Šimić joined Dinamo's academy in 1987 and went on to play 140 times for the senior team. Inter Milan paid £11m for him in 1999, Šimić played for the Nerazzurri over 60 times before he crossed the divide to play for rivals AC Milan in 2002, he won two Champions League titles with Milan, in 2003 and 2006.
Dejan Lovren
Lovern played for Dinamo between 2004 and 2010, winning two league titles. He moved to Lyon, then Southampton and finally to Liverpool for £20m in 2014. He has a UEFA Europa League and Champions League runners up medal and has 38 senior caps for Croatia; representing them at the 2014 World Cup.
Alen Halilović
Diminutive winger, Halilović, was Dinamo's youngest ever debutante, aged just 16 years and 112 days old when he made his first senior start in 2012. He played just 44 games for Dinamo before Barcelona signed him in 2014. Halilović has had a succession of loan moves since then and is currently at Spanish side, Las Palmas. He has enormous potential and could be one to watch for the future.
Eduardo
A product of Dinamo's far-reaching scouting tentacles, he was spotted playing for Bangu in Brazil in 1999 and joined Dinamo a year later. He played for Dinamo for six years, winning three league titles and three cups. Arsenal paid £7.5m for him in 2007 and although he had a decent start with the Gunners his career in England never quite recovered from a horrific injury he sustained against Birmingham City in early 2008. He was part of the Shakhtar Donetsk team which won four Ukrainian league titles between 2010 and 2014. Eduardo scored an impressive 29 goals in 64 games for Croatia.
Marko Pjaca
A strong, skilful and fast winger, Pjaca was Dinamo's most expensive sale when Juventus paid £23m for him in the summer of 2016. He was making tentative steps into Juve's first team when he suffered an ACL injury while on international duty in March 2017. Pjaca has been regaining his fitness and match sharpness on loan at Schalke 04. He will be a part of Croatia's 2018 World Cup squad and has 16 international caps thus far.
Milan Badelj
Badelj is the current captain of Fiorentina, but started out in Dinamo's academy in 2005. He played 113 times for Dinamo and not only captained the senior side, but such was his ability he was also touted as a possible replacement for the departing Modrić in 2008. He joined Hamburg in 2012 and then moved to Italy in 2014.
Mateo Kovačić
Gifted midfielder, Kovačić, has been the subject of some lavish praise during his fledgling career; he was compared to Prosinecki by his coaches at Dinamo's academy, later at Inter his potential was similar to a young Ronaldo by club legend, Javier Zanetti. He played for Dinamo between 2007 and 2013 before joining Inter. Kovačić moved to Real Madrid in 2015 for £29m and has won three Champions League titles since arriving.
The list of Dinamo's youth alumni is endless, and there are plenty more players to be discussed in length. None of this would be possible without Dinamo's complete and unwavering commitment to youth development, they deliver this very impressively, which considering the stature of the club, is staggering. Most of the current Croatia national squad are approaching the twilight of their careers (in fact they have the tournament's oldest squad), and it will be exciting to see how Dinamo contribute to producing the next generation of national players.